Services & Fees
My Birth Doula Care Includes
Two Prenatal Visits
I will come to your home a
nd meet with you and your partner twice toward the end of your pregnancy (usually between 35-37 weeks). The visits usually last 1.5 - 2.5 hours each.
Read more
Phone and Email Consult
You can contact me as needed throughout your pregnancy.
Read more
On Call for your Birth 24/7
When you go into labor you can of course call anytime day or night.
Read more
Continuous Labor Support
This is the heart of birth doula care. I will remain with you throughout your labor and birth providing continuous physical, emotional, and informational support. Find out more about how my presence is helpful during labor.
Massage throughout Labor
This is one of the big benefits of working with a doula who is also a licensed massage therapist. Massage during labor is one of the most effective pain relief strategies that I offer. Here you can read more about how massage during labor is helpful.
Immediate Postpartum & Breastfeeding Support
I will remain with you for the first 1-2 hours postpartum (occasionally longer if necessary), to help hold the space for your first hours of bonding with the baby and help you initiate breastfeeding. I will only leave once you and your family are settled and ready for quiet time together to rest.
Postpartum Visit
I will come to your home within the first week after you give birth to follow up with you.
Read more
24/7 Postpartum Phone Support
The first week is a time of many adjustments; you can call me anytime 24/7 within that first week with any questions or concerns regarding your wellness postpartum, breastfeeding, or baby care.
Read more
Fees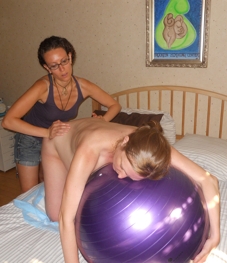 Please contact us for current fees.
Please note that if my fee is out of your price range there are still options:
Most health savings accounts or flex spending accounts will cover doula fees.
You can add a "doula fund" to your baby shower registry (usually it doesn't take a lot to make up the difference between what you can pay and my fee).
I offer payment plans.
Occasionally health insurance companies will reimburse for some of the doula fee (and I am happy to provide you with receipts for your insurance company).
Lena is currently not attending births, please contact us for personalized referrals